Dr. Paige Thomas, PharmD, RPh.
Owner/Pharmacy Manager/Immunizer
Hi, I am Paige Houston and I am a lifelong resident of Dunn, NC. I attended Campbell University and graduated with a BS in Biology in 1990. I decided to carry on the family tradition and in 1994 graduated from Campbell University School of Pharmacy with a Doctor of Pharmacy degree. My post graduate studies include completion of the "Diabetes Care Certificate Training Program" and the "Pharmacy-Based Immunization Delivery Certificate Training Program".I love living in a small community and meeting the personal needs of my friends and neighbors. I am married to Keith Houston and we have 1 daughter, Reaves. My grandparents and my dad instilled in me a strong work ethic. I will always remember their teachings, mentoring and wisdom. I learned from their generosity to others and their dedication to their community. I can remember growing up when Christmas Eve dinners were delayed briefly for Dad to go fill a prescription for a sick child. Each time I turn the key on the front doors after hours, it brings a smile to my face reminding me of the Thomas Drug heritage and my love for this profession. I would like to thank the generations of families who have supported Thomas Drug Store for over 60 years. Also, a big thank you to the local organizations and businesses that we support who in turn, support us. I promise to continue to provide the most up to date pharmacy services, best pharmaceutical care available along with competitive prices and old-fashioned customer service.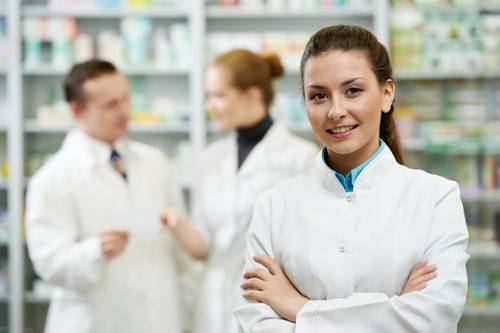 Sylvia R. Stafford, RPh.
Staff Pharmacist/Immunizer
Hello, my name is Sylvia Rose Stafford and I have been practicing pharmacy for 24 years. I have lived my entire life in the Meadow Community of Johnston County. I am married to Macon Stafford and we have three sons-Nathan, Brantley and Benjamin.
I attended the University of North Carolina at Chapel Hill School of Pharmacy and graduated in 1988 with a B.S. of Pharmacy. After graduating, I went to work for the chain pharmacy Revco/CVS. I worked for 10 years as a chain pharmacist.
In 1998, I was given the opportunity to join Thomas Drug Store. The change from chain pharmacy to independent community pharmacy was the greatest career move ever! Working in a small home town community pharmacy renewed my love for the pharmacy profession. At Thomas Drug, we have two staff pharmacists on duty each day Monday thru Friday. This advantage allows for more customer/patient driven service. There is more time and opportunity to spend with individual customers, such as medicine reviews, discussing disease states, immunizations/vaccinations, and developing the pharmacist/patient relationship. One of the greatest assests to being a community pharmacist is that you get to know your customers/patients and their families and become a trusted part of their healthcare team.
As a Thomas Drug Store pharmacist, I have had the opportunity to expand my pharmacy education by completing the Diabetes Care Certificate Program and in 2010, the Pharmacy-Based Immunization Delivery Certification Program. I am also CPR certified.
As a member of the Thomas Drug Store team, I strive daily to uphold the "family-based traditions" of great customer service, best pharmacy care available and developing both personal and professional relationships with our customers/patients.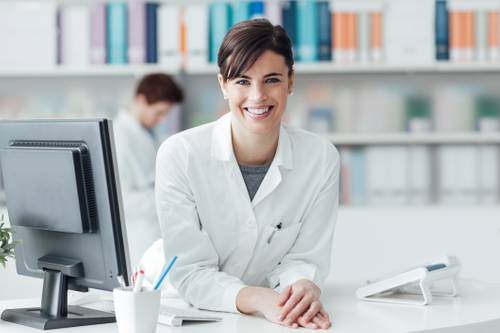 Hannah D. Miriello, PharmD.
Staff Pharmacist/Consultant Pharmacist/Immunizer
Hi, my name is Hannah Miriello. Originally from Benson, I now live in Coats with my husband, Joey Miriello, who teaches and coaches baseball and soccer at the local high school, Triton High.
In May 2010, I graduated from Campbell University with a Doctor of Pharmacy degree. I was blessed before graduation with a phone call from Paige offering me a job with Thomas Drug Store. It was the best decision I have ever made. Being a pharmacist at a locally-owned community pharmacy is a lot like being a part of a family, and our customers are part of that family. We are able to provide personal care for our patients, with time to give one-on-one care. Some of my interests include providing immunizations and medication therapy management for my patients. I am also a consultant pharmacist at two local assisted living facilites, where I am able to be a part of the healthcare team in a different way.
I am a member of NCPA, NCAP, and the Campbell Alumni Association. In my spare time I enjoy being with family and friends, going to baseball games, and going to the beach.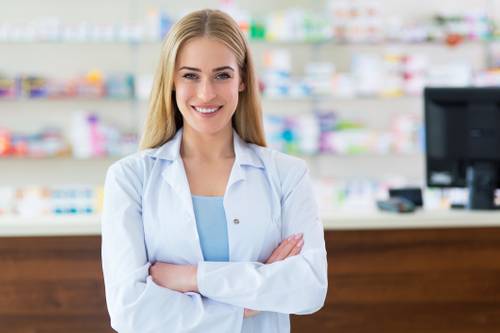 Kathy Thomas Blackmon
Owner/Office Manager
Hello, my name is Kathy Thomas Blackmon and I've been working for my family's pharmacy for 20 years. I have lived in Dunn my entire life. I am married to Mike Blackmon and we have two sons-Peter and John Michael. My grandfather J.I. Thomas founded Thomas Drug Store in 1952. When my grandfather retired my father Larry Thomas took over the pharmacy.
I graduated from Dunn High School in 1980 and attended Campbell University. After college I worked for Raleigh Federal Savings Bank for 10 years. I have always loved working one on one with customers and helping them with their needs.
My father talked to me one day back in 1992 and said he needed someone to help him with the office work like paying bills, payroll, filing insurance, etc. Never did I know what else it would lead to. With my banking background and loving helping people, this career move fit me perfect. I am still doing all the office work, managing employees and I am also called the "problem solver". I work closely with patients who are diabetics and need diabetic shoes and orthodics. During the year I love helping customers who have Medicare. I help them choose a Medicare Part D Prescription Plan perfect for them. My grandfather and father taught both Paige and I to treat people the way you would like to be treated. This is how I live my life daily and how I treat and love our customers.
As an owner of my family's business "Thomas Drug Store", I look forward to coming to work each day and helping our customers with a smile. As my father always said "Small Enough To Know You But Large Enough To Serve You".